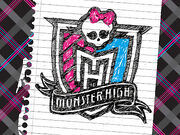 you know high and real people and every thing like black and african american.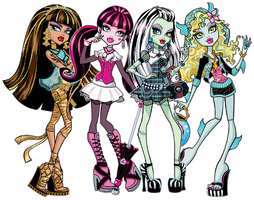 Ecco questa e la mia wiki . Questa wiki e una lente di ingrandimento del personaggio di Draculaura. Quindi saranno sviluppati piu i personaggi allegati a Draculaura.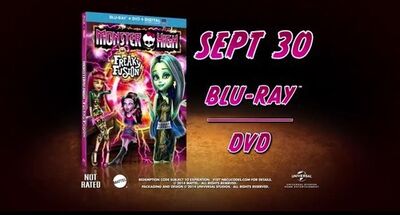 Welcome!!!!!!!!fans!!!!!!!!!!!
Edit
 Monster High

 è una linea americana di bambole della tipologia 

fashion doll

 creata da Garrett Sander con illustrazioni realizzate da Kellee Riley. Sono state ufficialmente messe in vendita nel 

luglio

 

2010

, ma vennero costruite nel 

2007

.

Edit
I personaggi sono ispirati dai mostri dei film horror, modificandone l'aspetto affinché risultasse più adatto a delle fashion doll. Nonostante siano entrambe una creazione della Mattel, Barbie e Monster High vengono considerate rivali. I personaggi sono raffigurati come "esseri collegati", o meglio, come figli di celebri mostri quali Dracula, il mostro di Frankenstein, la Mummia, Medusa, il mostro della laguna nera, il fantasma dell'Opera, zombie e lupi mannari.
Il franchise di Monster High include anche altri prodotti di consumo, come peluche, articoli di cancelleria, borse, accessori, vestiti, portachiavi, nonché svariati tipi di giocattoli e apparecchi elettronici. Un film musical live-action su Monster High è nella lista dei film in via di sviluppo della Universal Pictures.
Il 25 ottobre 2011 è stato pubblicato negli Stati Uniti un videogioco intitolato Monster High: Ghoul Spirit, disponibile solo per Nintendo DS e Wii.
Monster High ha una propria serie a cartoni animati su internet, in modo da aiutare a pubblicizzare il nuovo franchise della Mattel. Gli episodi, della durata di qualche minuto, vengono trasmessi ogni giovedì sul sito ufficiale e sull'account di YouTube. Ad Halloween è possibile vedere un episodio speciale sul canale satellitare Nickelodeon, mentre il relativo cartone animato va in onda su Boing e su Cartoon Network.
episodes
{{WelcomeIP http://monster-high.wikia.com/wiki/Category:Episodi_specialli}}